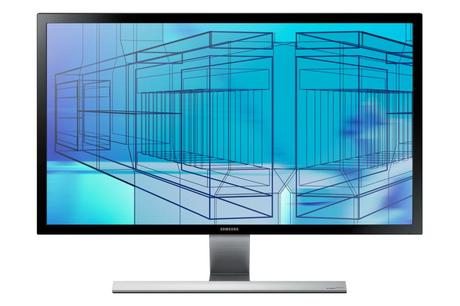 The latest Samsung monitors will allow us to enjoy the latest 4K UHD technology in the home and in the office, providing superior image quality. UD590 model that's already available for purchase provides four times higher resolution than that which is obtained from the standard Full HD (FHD) matrices. High image quality will come useful in professional use, as well as in home entertainment.
New screen from the Korean manufacturer will display movies, games or online content without any disturbance. Perfect quality, free from smudges and shadows, will be ensured by the monitor's response time of just 1 ms. 28-inch UD590 model is the perfect solution for professionals working with images, such as graphic designers. Four times higher resolution than that obtained in the Full HD displays provides great detail and lifelike color reproduction. The number of displayed colors on the Samsung monitor is equal to one billion, so 64 times more than a standard monitor. As a result, designers can avoid the frequent problem of divergence between the colors displayed on the monitor, and those that appear in the final output of their work. The monitor is also equipped with the technology to convert the content developed in the low-resolution image to the UHD (for more news about UHD visit 4k.com) quality, providing a more vivid images.
UD590 is also a monitor conducive to multi-tasking, thanks to the used solutions. Picture in Picture (PIP) 2.0 allows simultaneous display of two sources in their original quality, including Full HD resolution. In turn, Picture by Picture (PBP) will allow to have one screen simultaneously display images from two different computers at their native resolution. In addition, this monitor is equipped with a dedicated gaming mode, so just one touch, and it will become perfectly adapted to the parameters of the projected image of our game – guaranteeing optimum contrast and strengthening the displayed colors.
It is worth noting that Samsung UD590 monitor can also display content in the Ultra High Definition (UHD) quality from the gaming console (for example Xbox One, PlayStation4) using the built-in HDMI 1.4.